Strengthening communities and individuals at every age and stage of life
Click to Donate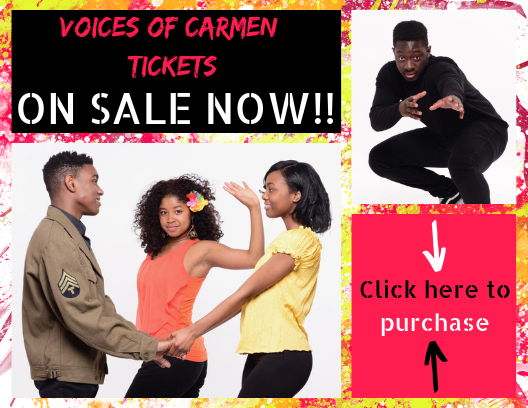 ABOUT
VOICES OF CARMEN is a musical adaptation of the opera Carmen and a new work developed through youth centered conversation and collaboration. This original production written, directed, and choreographed by CJay Philip, will debut in Baltimore, MD July 30th - August 2nd, 2019 before being presenting at the Kennedy Center's Millennium Stage, Aug 3rd.

*Click the image to view sponsorship levels

Friends & Family
Sponsorship Levels:
$100 - Receive an original cast album and T-Shirt
$250 - Receive an original cast album and two T-Shirts
$500 - Receive an original cast album, three T-Shirts, and an autographed poster
*All giving levels will be added to our Friends & Family Sponsorship List in the lobby at each performance

Donate a Carmen Catalog Gift Item for
$600 - $15,000
*Corporate Sponsors Welcome!
---
More about Dance & Bmore
Dance & Bmore Mission:
Our mission is to create meaningful human connections for communities and individuals at every age and stage of life and design creative movement and music performances and programs that strengthen families and elders.
Your donation supports these programs:
FazaFam Family Jam a family strengthening program building bonds and memories through music, movement, and games
Forever Fit & Fun Club engages and empowers senior citizens through music, movement, and storytelling
Arts Mentorship Program teaching youth the value of creative collaboration and using theater to spark community conversation
Dance & Bmore After School uses rhythmic movement and community circles for students to share their ideas, creativity, and class values: Gratitude, Patience, Teamwork, and Safe Space
Voices of Carmen Dance & Bmore's newest program for adolescents 14-21 yr.
Strong City Baltimore (EIN # 52-0897806) provides essential administrative and financial support to projects all over the city through fiscal sponsorship, including Dance and B'more Programs. Fiscal sponsorship provides the ability for those projects to receive tax-deductible donations through our 501(c)(3) tax exempt status.
Donate via Credit Card or eCheck
FAQ
Is my donation and credit card info secure?
Yes, the security and confidentiality of your information is our highest priority. We will not sell, trade or share your personal information with anyone else, nor send donor mailings on behalf of other organizations, and we will only share personal information if you have given us specific permission to do so.
Is my donation tax deductible?
Yes, we are a fiscally sponsored project of Strong City Baltimore, which is a public 501c3 organization recognized by the IRS. Your donation is tax-deductible to the fullest extent permissible by law.
How do I know that my donation was made successfully?
You will receive an emailed receipt immediately after your donation is submitted and your credit card is processed. Your donation will also show up on your bank or card statement within 1-3 business days.
Do I get a receipt?
Yes, a receipt is sent to your email inbox once your donation is processed. Please be sure to keep a copy of your receipt for tax purposes. If you select a recurring donation, you will be sent an individual receipt each period when your donation is processed.
Is my donation private?
We will not share or sell a donor's personal information with anyone else, nor send donor mailings on behalf of other organizations.